It's that time of year again, the last vestiges of the summer heat are slowly fading away and the days are getting shorter. In Nevada County that means it's time for the hills and mountains to spring to life with vibrant shades of oranges, yellows, and reds. Weather conditions at 2,500 feet in the Sierra Nevada foothills are perfect for the formation of the brilliant colors the area has become known for. As temperatures begin to drop and the days shorten chlorophyll production is slowed in plant life. For many trees and plants this means that colors other than green can become visible. For residents and visitors of Nevada County it means a lively celebration of the colors of fall painting the hillsides and decorating the streets.
Fall is already a great time to visit the bucolic foothill cities of Grass Valley and Nevada City. The area's rich Gold Rush history, the reduction in visitors due to the cooler weather, and the abundance of gourmet restaurants and boutique inns and hotels makes this a perfect time to visit the area. Add to that the splendor of bright yellow, orange, and red that blankets the cities and it's not hard to see why the locale is such a hidden gem.
Serious enthusiasts or those looking to make a weekend of their Fall Colors tour have the 160 mile Yuba-Donner Scenic Byway that loops through the foothills, up to Donner and Yuba Summits, and back down circling the Tahoe National Forest. This route starts in Nevada City and follows State Highways 20, 49, and 89 as well as Interstate 80, and offers a wide variety of foliage and scenic backdrops.
It is impossible to predict the peak color weeks during which the Fall Colors are most lively but the middle of October through Thanksgiving is generally considered the best time to visit. Both the Nevada City and Grass Valley Chambers of Commerce encourage visitors to call ahead and inquire about conditions. They will be more than happy to help you determine how to plan your trip and can provide you with info on some of the best places to view the breathtaking foliage.
The link to the Fall Colors Brochure located after the article provides a map of some scenic views of autumn foliage found around Grass Valley and Nevada City.
Read More
The number of upside-down mortgages continues to fall nationwide along with delinquent credit card payments. American consumers are demonstrating the lessons learned from the buy-now-pay-later, get-rich-quick days of the first decade of the 21st Century.
CoreLogic's 2nd Quarter 2013 Equity Report, released today, shows that nationally 2.5 million residential properties returned to positive equity from Q1 through Q2. This means that in 3 months' time more than 5% of residential home loans were able to reach the surface, though 14.5% of mortgages in America are still underwater.
 Credit reporting giant TransUnion released its quarterly credit card debt and delinquencies report in August and their numbers are positively down as well. The number of delinquent credit card payments fell to 0.57%, a near record low, while average American debt continued to hover just above its all-time low.
The Scars are Healing and We Are Stronger
These numbers from opposite ends of the credit spectrum have a lot to say. American consumers are willing to put in the work, paying their credit cards on time, and continuing to make their mortgage payments as the value in their homes is re-established. This attitude is a stark contrast to the "now now now" voice that seemed to be driving the housing market and consumer sentiment less than a decade ago. Perhaps we are learning from our mistakes.
These are the signs of true economic recovery. Signs that the American public is waking up and deciding to take charge of their economic future instead of living beyond their means in the present. Destructive habits we are seeing less of include overspending on credit cards and failing to make the payments and buying an overpriced home you can't afford because you KNOW it will be worth more soon. In 2005 the consensus was that you could buy a home and turn a profit on it in as little as 12 months.  Our society believed that you could live the life you WANTED right now and pay for it later because you'd be making more money soon, or because your home would be worth more. The problem was systemic, from credit consumers, to homebuyers, to the lenders. By 2008 it was obvious that this was not sustainable. And now we have been shown the results of unsustainability. Indeed, we have lived through those consequences for the past 5 years.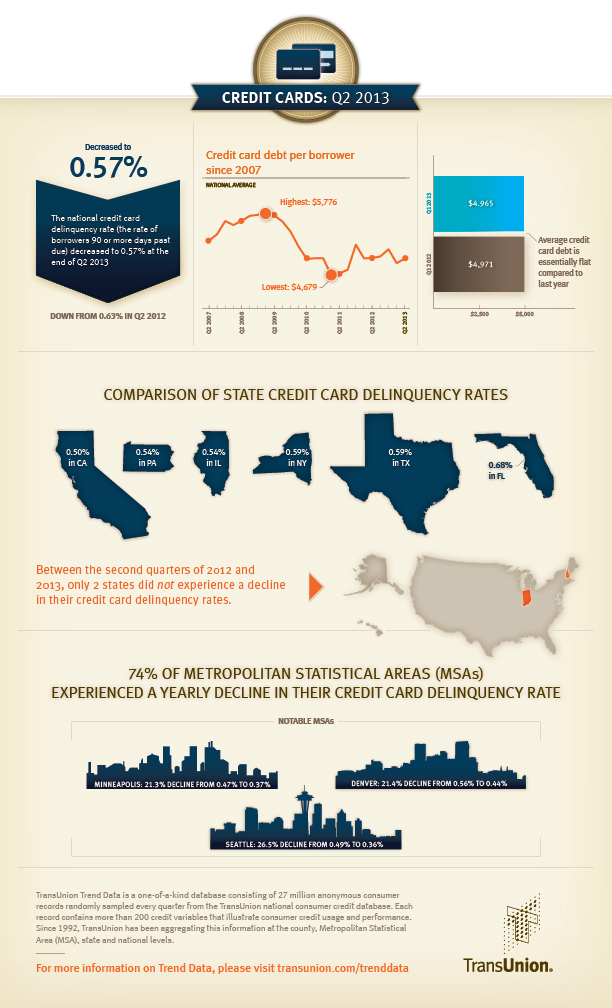 One of the most shocking revelations of the TransUnion report is that these delinquency rates are just above the historical low not seen since 1994.  20 years is about the length of a generation and it appears that the Credit Generation is coming to terms with the consequences of overabundant credit while also using it for empowerment. TransUnion's Ezra Becker, Vice President of Research and Consulting in their Financial Services Business Unit said, "Despite recent improvements in the employment situation, consumers continue to value their credit card relationships as a primary means of liquidity." We are using credit cards differently than in the past but with a better understanding of its uses and impact. Becker states that our willingness to pay the credit card first shows that "consumers will continue to prioritize their credit card relationships over other credit obligations", demonstrating an awareness to the varying effects of late payments.
Missing a Credit Card Payment Could Cost You a Lot More than a Mortgage Payment
Credit card delinquencies have a significantly quicker impact on credit rating and, more importantly, on the amount of debt owed. Late payments on credit cards can quickly cause a Default on the credit card which initiates radically high default interest rates as high as 29%. This hastily increases the amount of debt that is accrued each month which soon spirals out of control.
Mortgage lenders, however, are not nearly as reactionary. In many cases, mortgage payments can be missed for several months before eviction even begins or before any damage is done to your credit score. And that certainly doesn't increase the amount owed on the loan either.
The CoreLogic report attributes the drop in negative equity to rising home prices, which is true. It is also driven by the homeowners who decided that the right move (or in some cases the only move) was to keep making their mortgage payments even though they were underwater. If they didn't need to go anywhere, why not stick things out and let the market return value to your home. These homeowners are becoming empowered by their patience, as many will now have the opportunity to sell their homes or to leverage the equity they have rebuilt.
This represents a tremendous shift in public behavior and its results will be beneficial to all. Ultimately these two trends are going to mean more homes coming on the market as their value continues to climb out from the crash and new homebuyers are becoming empowered by improving their credit. A more responsible, pro-active, and informed public is the basis for a healthy and consistent housing market and economy.
Read More