CoreLogic's latest Home Price Insights report has been released for April 2018 and the biggest news is that CoreLogic reports that half of the 50 largest metro housing markets in the United States are "overvalued." That's a word that may have many homebuyers running for the hills shouting about bubbles and crashes but it's far from that simple.
Click here to read the full press release from CoreLogic
So what does "overvalued" mean?
It does not mean the same thing as a bubble. Though it is obviously true that in order for a bubble to exist some commodity has to be overvalued it does not necessarily correlate that an overvalued commodity is, necessarily, a sign of a bubble.
Bubbles always occur because of some kind of rampant fraud when it comes to housing. Though in some cases, when involving a highly specialized product, there is no fraud if a single company controls the production of the product. In those cases, the company helps falsely inflate the value by only producing a limited amount. Beanie Babies, remember them? Maybe you don't.
Yes, Beanie Babies were like a bubble. There was overwhelming demand and then there wasn't. So the value washed up, the bubble burst, and the people with Beanie Babies in their hands were the ones who lost out the worst. Beanie Babies, however, are not a necessity for living and at worst, their peak price was hundreds and, in a couple of cases, thousands of dollars. It's hard to compare that to the housing market. True there was no fraud but that's because the commodity is priced relatively low, it isn't a necessity, and it was controlled by a single company.
When it comes to housing the only way that home prices are able to be falsely inflated during a bubble is due to large-scale fraud that must be allowed to occur at multiple levels. Mainly, the type of fraud that occurs when government regulations on the financial industry are relaxed and removed.
So if it isn't a bubble, then what does overvalued mean and what are the consequences of that?
If a market is overvalued it means that homes in that area are more expensive than most people can afford in that area based on the prevailing wages for that area. It's really more about wages than it is about home values. In this type of market, it is the buyer who can extend themselves to the highest price point in order to purchase who ends up setting the value of homes. It doesn't mean that homes are being sold for more than they are worth because the only value that you can ascribe to any home is the dollar amount that a buyer is willing and able to pay for it. Home prices are "high" because wages in the area haven't been growing commensurate with home prices. Were wages increasing alongside the housing market, it would be unlikely that most people would be complaining about the market being expensive, except that buyers will ALWAYS be complaining that prices are too high 😉
So in an overvalued market, it is the buyers who are the ones creating the overvaluation. It is not the sellers. Here's an example. If you put your home on the market in a "hot" area and you decide that you want to be fair and offer your home for sale for a reasonable price (which no one actually ever says). So you list the home and you get 27 offers ranging from asking price to well above asking price. Do you choose the lowest priced offer because you want to be fair? If you truly wanted to be fair you would accept the lowest price as the purchase price and then do a random pick to choose the offer that "wins". That's "fair".
But you're not going to do that, and neither is anyone who is actually selling their home. Everything in life costs money and homes cost the most money. When YOU sell your home you want to be rewarded for your hard work and persistent upkeep. You put tens or hundreds of thousands of dollars into the home (on top of paying for it) and every seller expects the biggest reward possible for that hard work. That's how you would feel if you were selling your home.
But again, Sellers can only accept the offers they receive.
When you have a housing crisis it means you need to make more living spaces and you need to produce them in a manner that doesn't cause prices to soar even further.
What happens when a market is overvalued?
Well if there isn't any fraud involved then the market will do what every market does when it is overvalued. The market will respond by slowing home price increases until they more strongly align with incomes. This is called "price correction" and this is what is supposed to happen in an overvalued market. It didn't happen in 2005 (when it should have) because the banking industry was busy collecting huge paychecks by committing the most elaborate, although ultimately quite transparent, fraud that has ever been perpetrated. Well, maybe not "ever".
The result we're hoping to see in overvalued markets is a slowing of price increases and in some markets small drops in value, so that home prices can return to prices that a larger number of people can afford based on their incomes.
You shouldn't be worried about a bubble, they're extremely rare actually, even in real estate. And they're even rarer when everyone is worried about a bubble happening. Side note; the time to worry about a bubble, is when no one is worried about a bubble happening because they're so busy making money. What could possibly go wrong?
You should be worried about what your government (especially state and city) is doing to incentivize increased housing production and you should be equally worried about what your government is doing to make it easier for fraud to be perpetrated and go undetected. Regulation is the only tool that exists to prevent the financial industry from doing only what is in their best interests, even when that means breaking the law.
Want to Learn More About Your Local Market? Contact Us Today and we'll be happy to help you out…
Read More
A whole slew of good indicators in two CoreLogic reports this past month as well as another key economic indicator. Whether the numbers were up or down the reports represent a return to a previous state of prosperity without all the speculation (hopefully).
The Numbers are In
The March 2014 CoreLogic Foreclosure Report indicates that 48,000 foreclosures were completed in March, this number is down 10% from a year before and has been slowly falling for several years. From 2000-2006 the average number of completed foreclosures was 21,000 per month.
Additionally, CoreLogic's March 2014 Housing Price Index Report shows that home prices continue to climb with a 11.1% year-over-year increase from last March. This number has been dropping slowly over the past two years and the report predicts it will continue to drop. So let's see what these ups and downs actually mean for the housing market.
Foreclosures and The Economy
Foreclosures are a reality of the housing market, they occur during times of prosperity and they occur more frequently during times of economic depression. Foreclosures happen for a variety of reasons. Divorce, loss of work, disability, or a medical burden can all lead to a family or individual no longer being able to pay their mortgage. However, the increase in foreclosures that we saw due to the housing market crash of 2008 was by no means typical.
In the early 2000's home values were increasing at a frenzied pace and everyone wanted a piece of the action. Many lenders and loan officers were approving borrowers for loans they couldn't actually afford, often with Adjustable Rate Mortgages. When these borrowers began to default on their mortgages en masse in 2006, the financial institutions that owned the mortgages began to lose money at a cataclysmic rate. Thus began the snowball effect that knocked the economy in to state of recession and depression that we've been living in for the past six years. Consumers were losing their jobs left and right and the number of foreclosures began to skyrocket while the housing market lost value at an alarming rate.
A quick glance at the Case-Schiller Housing Price Index historical data shows how drastic the increase and ensuing descent in home values was compared to the previous 80 years. In a word, it was unprecedented.
Returning to the norm
We've been living in a period of Economic Extremes for so long now that it's hard to tell what a healthy or "normal" housing market looks like any more. Indeed, over the past decade the housing market has been anything but "normal." However,  these reports as well as another key economic indicator (I'll get to that shortly) are hopeful signs that we are returning to a period of healthy growth in the housing market. Like the market that existed before this recent period of unbridled price increases and outlandish speculation.
You can see how far we've come in returning to a healthy housing market, a housing market that isn't played like the stock market and that represents home prices that buyers can actually afford.
The fact that the growth in home prices is beginning to slow shows that progress. The past 24 months have seen consecutive increases in the HPI at a national rate of around 13% per year. By no means a sustainable rate. But the rapid increase in prices over the past two years had more to do with how far the market had fallen in value due to the Crash. Now that prices have rebounded significantly from the losses, the market is likely to slow the increase in home prices to a more sustainable rate.
CoreLogic's prediction of a 6.7% HPI increase in the coming year is a good indicator of this. A market where the value of homes has more to do with median incomes than with speculation that previously strong increases in home prices will allow homebuyers to "get rich quick."
Finally, the U.S. Bureau of Labor Statistics reports the Unemployment Rate fell to 6.3% in April 2014, the lowest it has been since September 2008. Just before the Crash this number was down to 4.7%, a historic low. So taken together, more Americans are employed, making their mortgage payments, and watching the equity in their homes increase their net worth. That sounds like good news to me.
The value of homes in our economy, society, and our daily lives transcends mere monetary value. The act of taking care of a part of the world for an indefinite period of time has the power to enrich our lives, our communities, and our nation. The value of putting time and effort in to a worthwhile and empowering task as opposed to the expectation that simply holding on to a home for a year will net a significant profit when sold in a booming market. A "normal" housing market is one that favors long-term care over short-sighted profit motivations. We'll be keeping an eye on the numbers in the hopes that this is what we are truly seeing happen.
Stay tuned.
Read More
The number of upside-down mortgages continues to fall nationwide along with delinquent credit card payments. American consumers are demonstrating the lessons learned from the buy-now-pay-later, get-rich-quick days of the first decade of the 21st Century.
CoreLogic's 2nd Quarter 2013 Equity Report, released today, shows that nationally 2.5 million residential properties returned to positive equity from Q1 through Q2. This means that in 3 months' time more than 5% of residential home loans were able to reach the surface, though 14.5% of mortgages in America are still underwater.
 Credit reporting giant TransUnion released its quarterly credit card debt and delinquencies report in August and their numbers are positively down as well. The number of delinquent credit card payments fell to 0.57%, a near record low, while average American debt continued to hover just above its all-time low.
The Scars are Healing and We Are Stronger
These numbers from opposite ends of the credit spectrum have a lot to say. American consumers are willing to put in the work, paying their credit cards on time, and continuing to make their mortgage payments as the value in their homes is re-established. This attitude is a stark contrast to the "now now now" voice that seemed to be driving the housing market and consumer sentiment less than a decade ago. Perhaps we are learning from our mistakes.
These are the signs of true economic recovery. Signs that the American public is waking up and deciding to take charge of their economic future instead of living beyond their means in the present. Destructive habits we are seeing less of include overspending on credit cards and failing to make the payments and buying an overpriced home you can't afford because you KNOW it will be worth more soon. In 2005 the consensus was that you could buy a home and turn a profit on it in as little as 12 months.  Our society believed that you could live the life you WANTED right now and pay for it later because you'd be making more money soon, or because your home would be worth more. The problem was systemic, from credit consumers, to homebuyers, to the lenders. By 2008 it was obvious that this was not sustainable. And now we have been shown the results of unsustainability. Indeed, we have lived through those consequences for the past 5 years.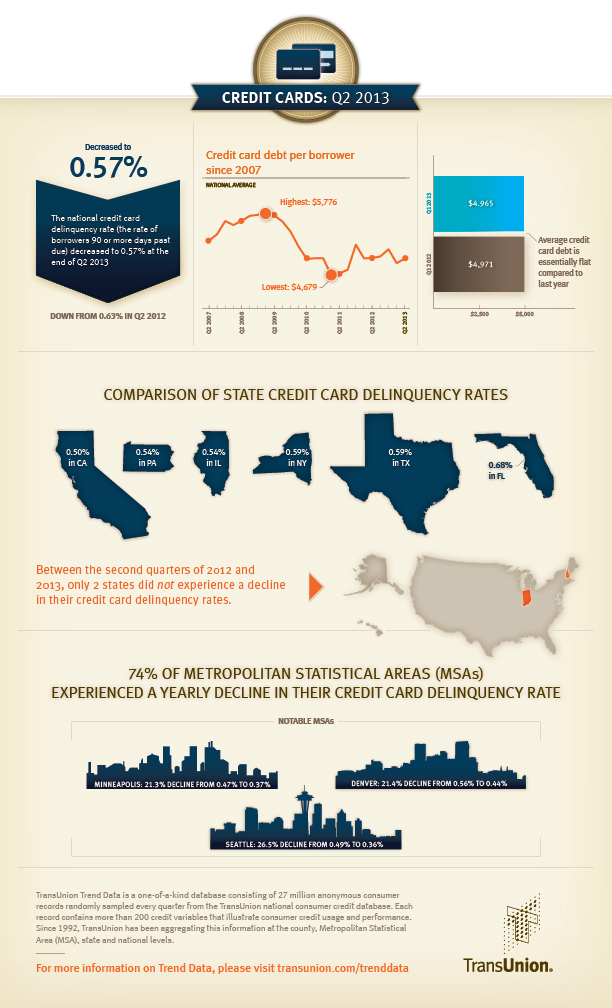 One of the most shocking revelations of the TransUnion report is that these delinquency rates are just above the historical low not seen since 1994.  20 years is about the length of a generation and it appears that the Credit Generation is coming to terms with the consequences of overabundant credit while also using it for empowerment. TransUnion's Ezra Becker, Vice President of Research and Consulting in their Financial Services Business Unit said, "Despite recent improvements in the employment situation, consumers continue to value their credit card relationships as a primary means of liquidity." We are using credit cards differently than in the past but with a better understanding of its uses and impact. Becker states that our willingness to pay the credit card first shows that "consumers will continue to prioritize their credit card relationships over other credit obligations", demonstrating an awareness to the varying effects of late payments.
Missing a Credit Card Payment Could Cost You a Lot More than a Mortgage Payment
Credit card delinquencies have a significantly quicker impact on credit rating and, more importantly, on the amount of debt owed. Late payments on credit cards can quickly cause a Default on the credit card which initiates radically high default interest rates as high as 29%. This hastily increases the amount of debt that is accrued each month which soon spirals out of control.
Mortgage lenders, however, are not nearly as reactionary. In many cases, mortgage payments can be missed for several months before eviction even begins or before any damage is done to your credit score. And that certainly doesn't increase the amount owed on the loan either.
The CoreLogic report attributes the drop in negative equity to rising home prices, which is true. It is also driven by the homeowners who decided that the right move (or in some cases the only move) was to keep making their mortgage payments even though they were underwater. If they didn't need to go anywhere, why not stick things out and let the market return value to your home. These homeowners are becoming empowered by their patience, as many will now have the opportunity to sell their homes or to leverage the equity they have rebuilt.
This represents a tremendous shift in public behavior and its results will be beneficial to all. Ultimately these two trends are going to mean more homes coming on the market as their value continues to climb out from the crash and new homebuyers are becoming empowered by improving their credit. A more responsible, pro-active, and informed public is the basis for a healthy and consistent housing market and economy.
Read More
Even with unexpectedly strong increases in housing prices in the last 12 months, there's still room for growth in the housing market. But how much?
The latest Core Logic Housing Price Index (HPI) data shows that national housing prices in March 2013 are up 10.5% from March 2012. After 19 months of consecutive decline in the year-over-year HPI, March 2012 showed a 1.13% increase over March 2011. For the last 13 months up until March 2013 that number has steadily increased to 10.54% based on the latest data. At first glance it may appear that we are seeing the beginning of another bubble, however appearances can often be misleading.
As Paul Diggle, Property Analyst for Capital Economics notes in the article, "…if house prices and incomes continued rising at their current rate, the house price-to-income ratio wouldn't return to its long-run average until 2017." It took the housing market 4 years to reach the dizzying heights of its peak just before the crash. This single year increase of over 10% is nothing compared to the unbridled increases we saw in the early 2000's.
A quick look at CoreLogic's data shows several states saw annual growth that EXCEEDED 10% for 3 consecutive years. Let's take a look at an example of what that kind of growth means. A home  purchased in 2002 for $500,000, would be able to sell for over $665,000 by the end of 2005. Growth like that simply can't go on forever. If the trend had continued that same house would be worth around $1.3 Million today. If that is the type of return on investment you're looking for in the housing market then you need to reconsider your investment plans
Markets reward those with patience. Remember when the U.S. Stock Market was falling with seemingly no end in sight? Well that same market is once again back to its old value and reaching for a new high. And that is what is driving the housing market these days: patience. Long gone are the days of homebuyers expecting to sell their home a year after purchasing it for a profit. Instead a new kind of apprehension and respect for the market has settled in, and that doesn't leave much room for those looking to squeeze quick profits from the market.
In a statement made 5/16/13 CoreLogic predicts, "Home prices projected to increase 3.9 percent annually over next five years, following a 7.3 percent rise in 2012." That is exactly the kind of consistent and healthy growth we've been looking for from the U.S. housing market since the crash. With regular scrutiny of the CoreLogic data we will continue to track this trend as we wait and see if their predictions ring true.
Read More